Controlled Discharge with Chlorine Bleach…cont.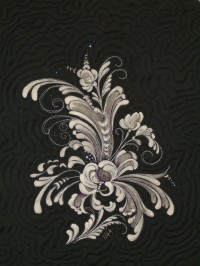 After creating several art pieces by painting with thickened dyes on fabric, I wanted to experiment with creating detailed designs on a dark fabric background without having to dye the entire piece.  My familiarity with thickening dyes and paints with sodium alginate led me to experiment with discharging my designs with thickened chlorine bleach.
Now Lets Paint!
Tape your fabric to a hard, non porous surface that won't be damaged by the bleach.   Be sure that your fabric is straight, smooth and taught.  Trace your pattern on to the fabric.  I use the same light colored wax-free transfer paper that I use for transferring designs onto wood (Saral).  It will disappear as you paint over it and any residue will wash out.
Mix up your bleach/alginate medium – 1Tbs. each adjusting to a heavy cream consistency.  The minimal amount of bleach that I use – maybe 1/4 cup max for the total project, mixed with the alginate gives off very little fumes but keep your work area well ventilated.  Keep your bleach container and alginate covered when not in use.
Now just like you are painting on a canvas or paper, load your brush with medium and stroke it on to the fabric following your design and the contours of the elements.  Brush on one coat and move to a dry area letting the bleach/alginate medium dry.  Take note of the color that has discharged and the value that remains.  I found that once the medium dried, the bleaching action pretty much stops.  This allows a nice opportunity for shading elements as you go.
Repaint over the dried medium in areas that you want to be lighter.  At this point I often use a touch of straight bleach in my brush.  The dried alginate will keep the bleach from spreading out of the design area as long as you are not carrying too much bleach in your brush.  Practice loading your brush and dragging off excess on the sided of your cup or tapping extra bleach onto a paper towel.  Remember that a little goes a long way.  Let these areas dry, re-evaluate your color values and re-paint highlight areas if necessary.
When you are satisfied with how it looks, let it dry.  I still dip the finished piece into a water vinegar mix to stop the bleaching action (or use what ever method you are comfortable with).  Use a little gentle finger rubbing on areas that are resisting.  Once the medium is washed out, wash and iron your fabric like you would any other textile piece.
Quilt and embellish!
If you have any questions, please contact me.  I would love to see any of your creations.
Have Fun !!!!
Ever curious,
Linda