Folk Art and Decorative Painting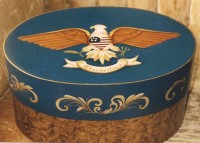 According to the American Heritage Dictionary, the definition of Folk is:  Occurring in or originating among the common people.  Art is:  The activity of creating beautiful things.
 Folk Art Painting and Tole Work (Painting on Tinware), are forms of decorating with paint in order to bring joy and color to otherwise utilitarian and mundane objects.  Every culture has its favorite subjects and motifs, particular color schemes and brush techniques that give their regional art an individual presence. 
Decorative Painting is the modern form of traditional Folk Art Painting  and Tole Work .  As the popularity of  Folk and Tole Painting grew in the 1980's and 90's, the term Decorative Painting came to be the umbrella term for all types of painting on surfaces for the purpose of decoration.  The purpose and subjects of early Decorative Painting  retained many links to its early roots.  
As a relult of this resurgence, new brushes, paints and techniques were being introduced faster than an artist could learn to use them.  The subject matter became more sophisticated as tastes changed and today the line between Decorative Painting and Fine Art Painting is blurring.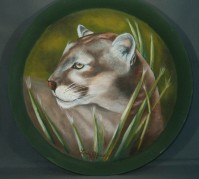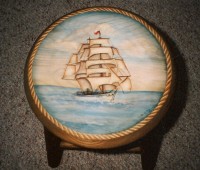 The painted pieces here are illustrations of Folk  and Decorative Painting.  The  piece above and on the left are original designs that I painted using acrylics on a wooden box and a stool. 
The Mountain Lion is typical of today's Decorative Painting, more realistic and painterly; approaching fine art.  I painted this piece in a  Mary McCullah class using oils on a metal tray.  
All of the pieces are utilitarian objects that have been decorated but each is distinctly different in style.  As artists, it is well worth taking a look at the painting traditions of our past – as they are the foundations of our future.