Puppets & Marionettes
Puppets and  Masks worn by actors and holy men were used in most cultures for the purpose of depicting  historical events and folklore to the population.  They were a very important part of every day life and ceremony.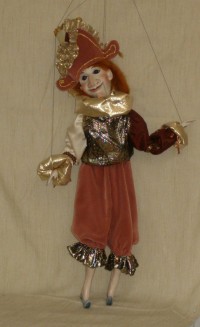 Argento -Silver  
Sorriso – Smiling
Are marionettes that I purchased at a flea market in Vermont. They were constructed in the late 1980's  from kits that were being sold by a John Ferguson Marionettes – possibly from Canada. They are constructed with hand painted porcelain heads, hands and feet mounted on fabric stuffed bodies supported by a cardboard framework. If anyone has more information please contact me.
Coccodrillio
(Crocodile) and Naso (Nose) 
are Polynesian Rod Puppets made from balsa wood and fabric with metal rods for arm controls. They were probably made for the tourist trade however, puppets were very important as visual aids in passing on oral history and folklore  from generation to generation.