Trade and Travel facilitates the Exchange of Ideas, Art, Tools, Materials and Techniques throughout the civilized world eventually evolving into mass production and the invention of Synthetic Fibers and Pigments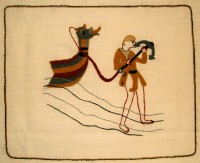 My interpretation of a scene from the Bayeux Tapestry 
Embroidered in 1066, it  is still on exhibit in France.  The figure I chose to embroider is from Panel #1 – Planning the Invasion, depicting the news of Harold's coronation being brought to William, the Duke of Normandy before the invasion of England. My piece is  Embroidered with "Appleton" wools on linen using the same outline and laid work stitches used on the original tapestry. 
The Golden Age of Civilization brought the arts to an exceptional level.  The establishment of trade routes and the travels of conquering armies widened the exchange of ideas, tools, materials and techniques.   Silks  from the Orient found their way to Europe.  Luxurious laces, fabrics and embroideries were as important to world trade as  precious metals and spices.   Exotic pigments and dyes like  indigo were traded and coveted.   The exchange of ideas and techniques greatly expanded an artist's choices for creating his vision.  Artist Guilds  and communities were formed for the purpose of teaching and maintaining the level of excellence that we admire today. 
The Victorian Era of the late 1800's gave us ocean liners and railroads that enabled ordinary people, not just tradesmen and warriors,  to explore new places and see wondrous things.
The Twentieth Century and the Industrial Revolution brought  us a Century of all things fast and new –  Manufactured!  Synthetic fiber, pigment and and the manufacture of just about everything else that would forever change the way an artist would create.  The legacy of the 20Th Century! 
 The 1930's brought us acrylics from Germany and polyesters from Great Britain and the US.  The water based acrylic paints were less toxic to use and dried very fast.  The polyester fibers were woven into fabrics but also made  non-woven fabrics such as felt, interfacings and batting cheap to manufacture and easy to use.  High speed looms and color application to fabrics made it cheaper to make and sell to the public. 
The 1980's brought us home computers and printers, then digital cameras –  all of which changed the way we explore our world.      
But alas,  The Journey has brought us to the 21st Century and, oddly enough, back to our beginnings.  Modern manufacturing and invention has given us wondrous textiles and materials but it has also made us aware of the need for a prudent return to our roots.    The demand for natural materials and traditional processes, "Found Objects" and "Re purposing" of materials  has risen to a level that certainly would amuse our ancestors and make them proud.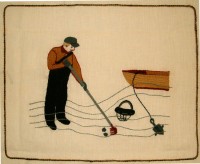 Reinvention is the word for the new century.  Combining traditional methods with cutting edge materials and cutting edge methods with traditional materials is transforming art and craft today.  We can only hope that future generations will go back in time to explore our world and the heritage before us as they journey forward into their world of artistic expression, and that what we leave is worth investigating. 
Digging Clams is my updated design inspired by the Bayeux Tapestry Scene.