Part One of Two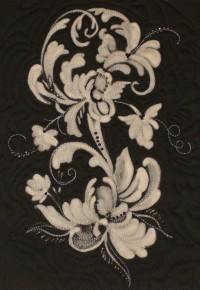 After creating several art pieces by painting with thickened dyes on fabric, I wanted to experiment with creating detailed designs on a dark fabric background without having to dye the entire piece.  My familiarity with thickening dyes and paints with sodium alginate led me to experiment with discharging my designs with thickened chlorine bleach.
Much to my amazement it worked beautifully!  I used black cotton sateen purchased at my local chain fabric store and found that it discharged to a very nice bright off-white and many shades in between.  I suggest purchasing a very small amount of fabric (1/8 yard) and try it out for color.  All fabrics discharge differently creating a wide variety of residual colors.  Black is particularly tricky as black dyes are produced by combining many colors.  If you like the results purchase the quantity you need for your project.   
I prepare my sodium alginate with plain water like I would for dye paints.  Be sure to use fresh chlorine bleach – it does degrade in even a tightly closed container over time.  The great thing about this method is that the amount of bleach you will be using is very minimal. 
 Do not mix the bleach with the  alginate until you are ready to paint – then only mix a very small quantity at a time, I use about 1Tbs. of each mixed in a small glass custard cup, but adjust to a heavy cream consistancy.  It will go a long way because you will be painting it on with brushes.  Once mixed, it will not keep longer than one session as the bleach will degrade the sodium alginate.  Throw away any mixture at the end of the day and make a fresh mix the next time you want to paint.
My favorite brushes for this and dye/painting are synthetic filberts, rounds and liners.  The synthetic bristles will stand up to the bleach and dye chemicals.  
Next Post – Lets Paint with Bleach
Ever curious,
Linda