Fiber Art and Needlework
The tactile seduction of Fabric and Fiber has always had a hold on my imagination.  Add to it the glamor and glitz of Beads, Sequins, Metallics, unlimited Color Palette – who can resist. 
"Rosemaling" the piece shown on my Curious About Page was my experiment in controlled discharge dyeing of color from a fabric and using Folk Art as inspiration for Textile Art.  The small piece was so successful that I decided to take on a large project that would showcase both ideas. 
The photo on this page is one section of a five panel piece, yet to be completed (all the discharge is done) called "Northern Night" – inspired by the Northern Lights of our polar region. 
See "Northern Night" featured on the V&A Museum's  Quilt and Quilts on line exhibit.    http://www.vam.ac.uk/microsites/quilts/detail/646/Northern_Night
These Rosemaling designs are inspired by the late Vi Thode, one of our finest Rosemaling teachers.  Permission for the use of her designs for this purpose was generously given by Zim's Inc. the publisher of Vi Thode's books.     
Rosemaling is a Folk Art of Norway.  As with most folk art, it differs from region to region.  My pieces reflect the Telemark style from the region of the same name.  It is identified by it's asymmetrical design.
I used black cotton sateen from my local fabric store discharge dyeing with ordinary chlorine bleach.  I found that the fabric discharged easily with a color range from dark grey to a pretty light white and could be controlled quite easily.  The bleach was thickened with sodium alginate and painted on with a brush.  It is being machine quilted, a real chore for me as sitting at my sewing machine for hours does not delight.
The graceful scrolls and arches just beg to be hand embroidered here and ther for subtle color, highlight or to deepen shadow.  The tiny teardrops as they are called,  are perfect places to put a bead or two.   Hand needlework of all kinds is my delight.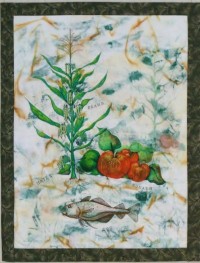 Three Sisters  Completed 2009 is 27 x 21" inches.  It is Hand Painted on Cotton with Fabric Paints, lightly Batiked using Soy Wax and Hand Stitched and Embroidered.  Personal collection for now.
The piece was inspired by my research into the Native American Culture and Heritage of the Northeast.  One of their agricultural practices was to plant Maize, Beans and Squash in the same hill of soil; often placing a fish or eel into the hole for fertilization.  As the seeds germinated, the cornstalk became the pole for the beans to climb into the sunshine and the squash plants spread and provided shade for the soil thereby maintaining moisture.  This symbiotic relationship which conserved water and space was called the "Three Sisters".  
I used Fabric Paint for this piece instead of Procion dye.  I found the result was quite satisfactory without all the chemicals.  Because the paint had no viscosity, the hand of the fabric changed little.  I did not use any kind of thickener – just controlled the amount of paint on my brushes.  This piece also is hand embroidered to add texture, highlight and shadow.  The soy wax was easy to apply and remove but crumbled instead of cracking, allowing more paint than I wanted to reach the fabric.  The soy wax was was designed for candle making so it was probably not the right choice for a textile project.  Lesson learned.